Enjoy Football Season with Sheraton Gateway LAX
You can feel it in the air… the most anticipated time of the year for sports fans is here: football season! From pro teams to college squads, epic games are on. Here at the Sheraton Gateway Los Angeles Hotel, we'll be featuring all the football action in our welcoming and comfortable Costero California Bar. Through playoffs and championship bowl games, you can enjoy gridiron showdowns live on Costero's numerous HD TVs, including a panoramic 13' by 7' screen, all accompanied by our delicious food and beverages.
To get things started, it wouldn't be football season without a piping hot bowl of chili. We score extra points with our Southwestern-inspired recipe featuring the famous roasted Hatch green chilies and a tangy topping of cilantro-lime crema with tortillas.
The bar menu highlights delectable tacos. The mahi-mahi fish selection comes with pickled cabbage, radishes, chipotle crema, and vibrant pico de gallo. Packed with savory beef, the barbacoa choice is topped with pickled cabbage, avocado, and cilantro-lime crema.
Cheer for your home team with fried favorites, including our succulent Buffalo-style Mary's Free Range chicken wings with dipping choices including avocado ranch, sweet chili, and ginger soy sauces. Fried eggrolls and dill pickles are on our crispy roster, too.
Burger varieties include Wagyu beef with bacon and Cheddar for meat lovers; the black bean veggie comes with avocado, roasted poblanos, and Pepper Jack. Roast turkey on ciabatta comes with applewood-smoked bacon and provolone. A chicken Philly is flavorful with peppers, onion, and Swiss cheese.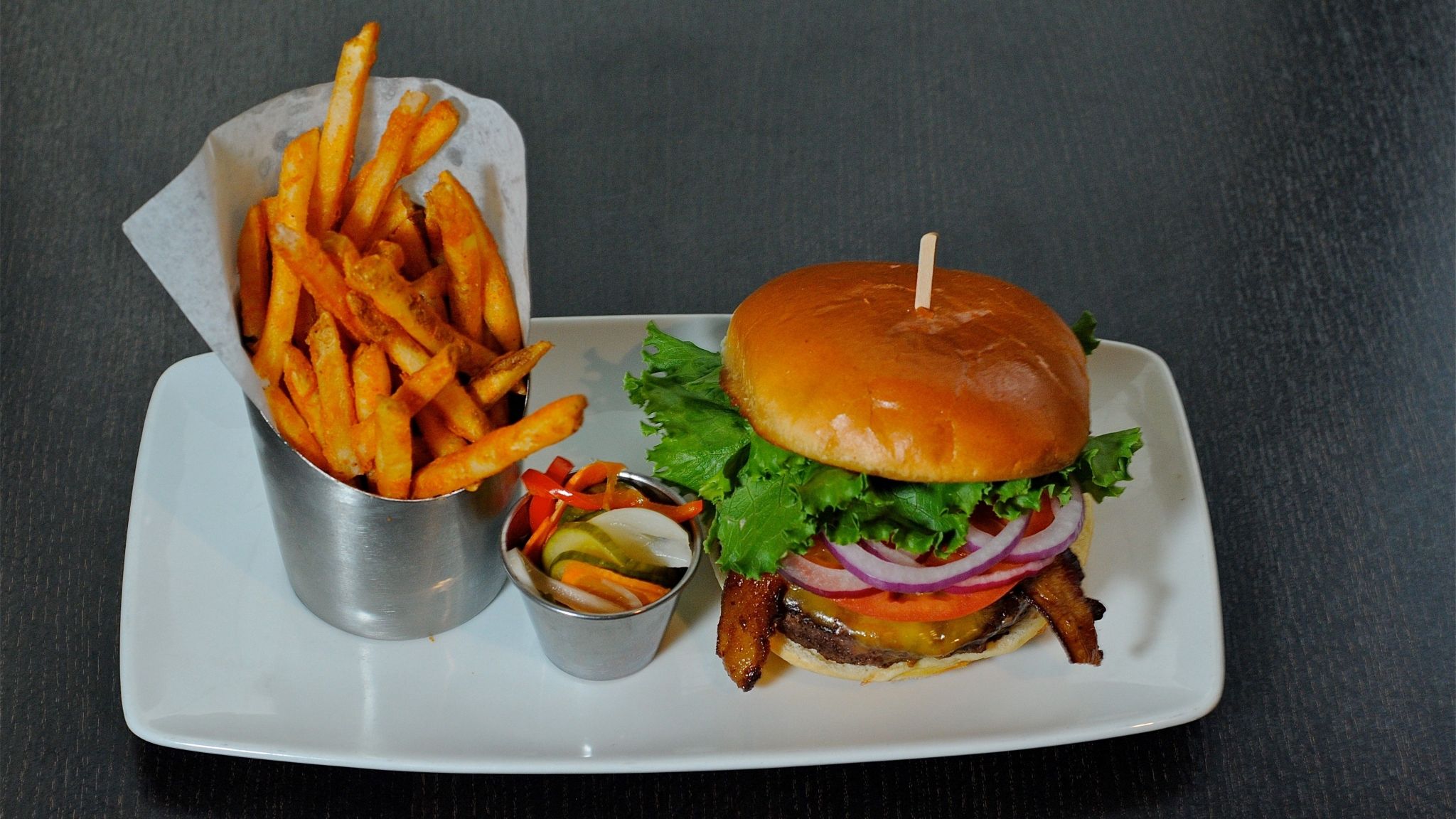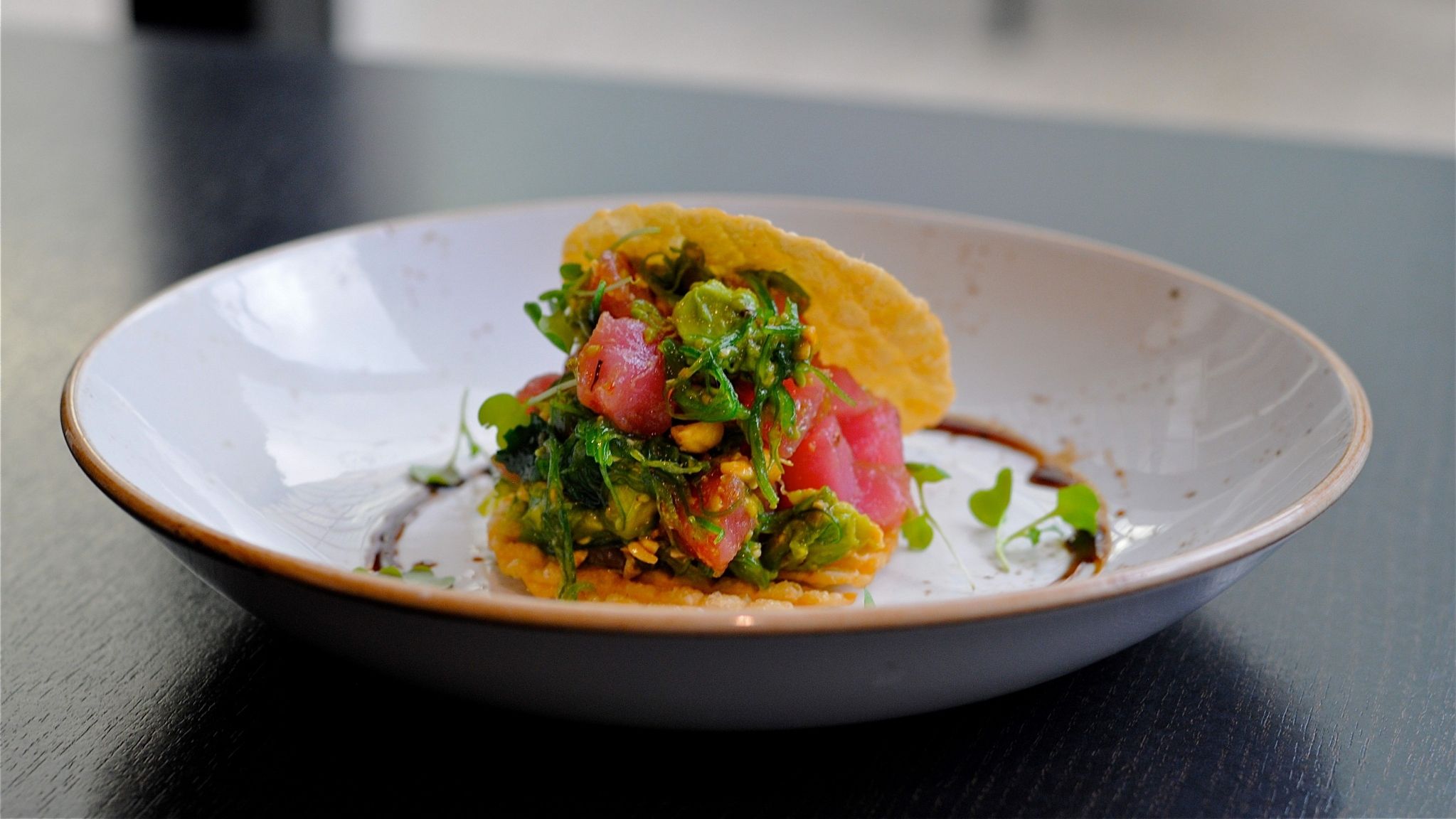 If you're looking for something on the lighter side, salads are in the play book. The California Cobb Point Reyes is studded with bleu cheese crumbles, hard-cooked egg, avocado, and tomatoes. A bowl of greens from Kenter Canyon Farms is bursting with cucumber, radishes, carrot, and tomatoes in a zippy Champagne vinaigrette. For South-of-the-Border flourishes, the Hearts of Romaine is filled with corn, queso fresco, red onion, and Toy Box tomatoes with avocado ranch. Add chicken, salmon, or shrimp for a savory touchdown.
If you're looking for dishes with Asian flair, start with Pacific mussels sautéed in coconut curry sauce. Always crowd pleasers, chicken pot stickers are sided with zesty ponzu sauce; charred shishito peppers are served with fragrant lemongrass aioli.
Start with gourmet appetizers like amberjack crudo with spicy coconut broth; Mary's Free Range chicken liver mousse with apple butter and crisp crostini; or wild-caught Pacific ahi tuna poke with avocado and wakame salad.
Seafood plates are MVPs, including California bass with littleneck clams and Spanish chorizo rich in tomato-fennel broth. Pacific Rim flavors shine through in both the wild-caught yellowtail tataki with ginger-soy glaze and miso-hinted California halibut with rock shrimp fried rice.
For adventurous foodies, charred Spanish octopus with Korean gochujang aioli and kimchee vinaigrette is a go-to.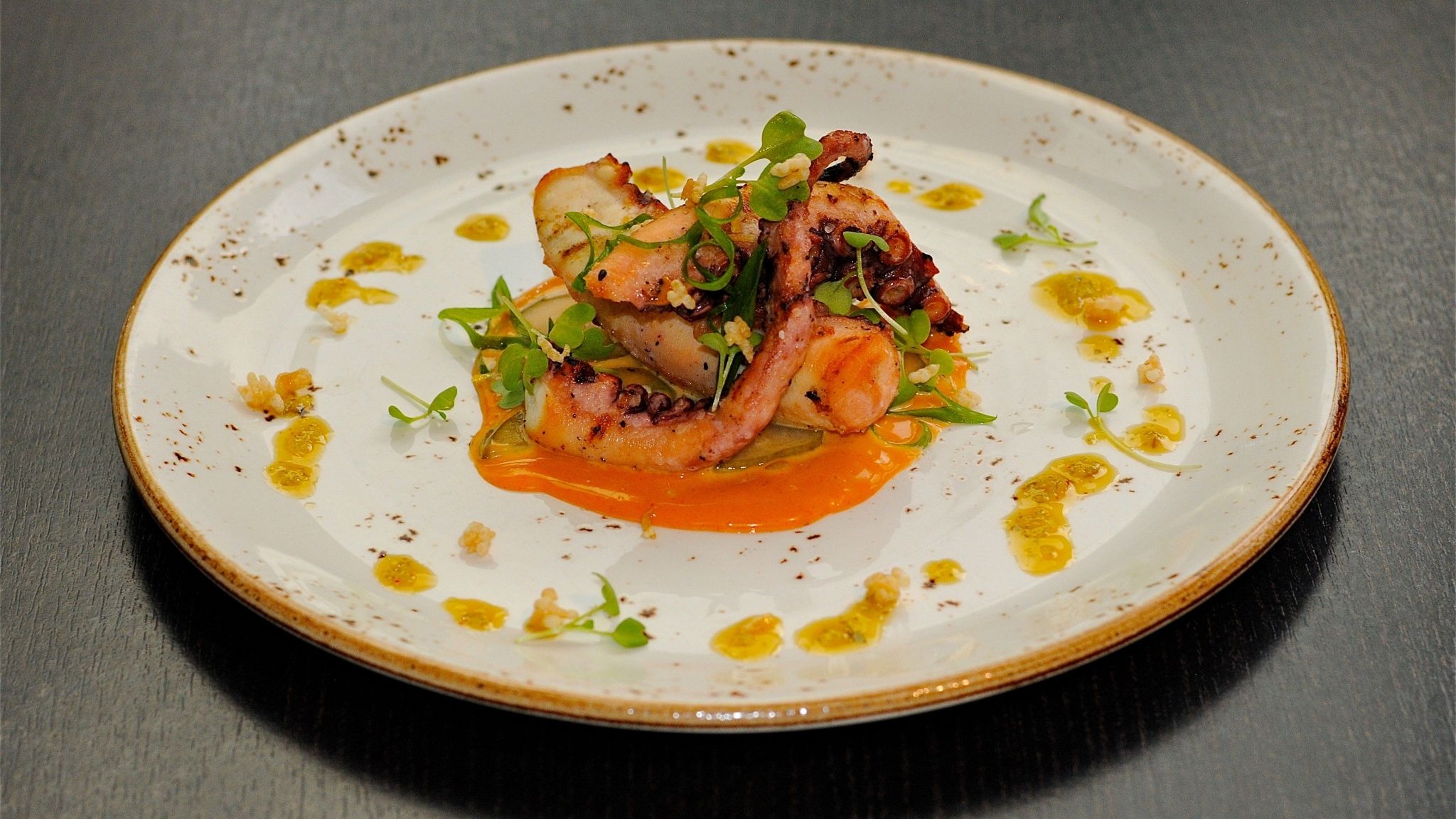 Of course, there's plenty of turf to go with all the surf. Brandt Farms New York strip is a steakhouse classic with sour cream-chive-potato purée. The Colorado lamb T-bone has a Mediterranean touch with feta cheese, eggplant, asparagus, cucumber, and minted yogurt.
And there are plenty of veggie choices to go around, including haricots verts with XO sauce; Mexican street corn "off the cob" with guajillo-lime mayonesa; and vadouvan-spiced cauliflower with golden raisins and pine nuts.
Great football matchups call for frosty, California-crafted beverages like Scrimshaw Pilsner and Lucky Duck Agave Blonde Ale. There's plenty of big nationwide hitters like Stella, Budweiser, Coors Light, and Corona served, too. Prefer fine wine with field goals? Sip on Stag's Leap Petite Syrah, Rodney Strong Pinot Noir and more. We also have a house mixology program with signature cocktails like the Drafted and Designed Basil-Cucumber Collins (Grey Goose vodka, St-Germain, lime juice, cucumber syrup, basil) and the Costero Jumper (bourbon, raspberry purée, lemon, bitters, cinnamon).
Our dynamic menus—which are filled with traditional favorites and new culinary experiences alike—are the creation of Executive Chef Collin Smelser. He's a graduate of the prestigious New England Culinary Institute in Montpelier, VT., and has helmed upscale kitchens from the Antlers in Colorado to the luxurious Chase Park Plaza, a luxury high-rise hotel in Downtown St. Louis, Mo. His gourmet game plan will be available every game, from weekday nights to weekends, in Costero.
To make reservations for a table during games, please call (310) 642-4820.